Y'all know how much I LOVE to have a place for everything
Well, I know that many of you love to find new, inspirational organizing ideas, too!
I also LOVE a parade!
The twirling batons, the sunflash of trumpets, the booming base of the drums,
confetti flying, flags waving in time with the drums...
Sorry, I got carried away there.
See that new button over there to the
right
that reads:
SPRING into ORGANIZATION blogger home tour
(and link party)?
Well, I am extremely delighted,
super stinkin' excited,
honored to have been invited,
to participate in a HOME TOUR PARADE unlike any other!
NINE bloggers, myself included, have teamed up to show you our most organized rooms.
The
tour begins on Monday, March 26th
at
my friend Becky's home, at
Organizing Made Fun
.
Then, during the week, you will be lead through 2-3 homes each day.
Also, along the route, you will find a
free whole home organizing printable
and get a chance to
win a copy of CLUTTER REHAB
written by Laura Whitman of Organizing Junkie.
On Friday, March 30th, Day #5
there will be a HONKIN' huge simultaneous link party
on all our blogs
where you can link up your organizing ideas and show us your spaces, too!
You can bet that I will be
Pinterest
pinning my favorite links.
These are the ladies that will be turning on the porch light
and waiting for you to march by their place:
So, mark your calendar for March 26th and grab a button for your blog: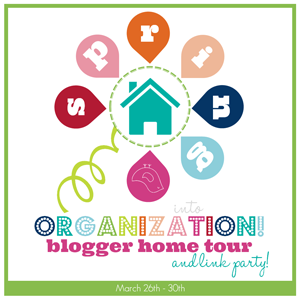 Here's a peek of my room in the parade:
From all of us to you,
we would love to have you join us so we can inspire and encourage
one another in making our homes more cozy, creative, and clutter-free!
Can't wait to see you there!