Here we are in the second day of a most inspiring week
of nine of us bloggers sharing with you our favorite
The friends of mine that are in this tour with me are:
Yesterday, the tour started here, at Becky's Place, Home #1, where she shared her
Master Bedroom and Bathroom.
If you start
here
, or click the button below,
her blog will direct you to then next homes on the tour.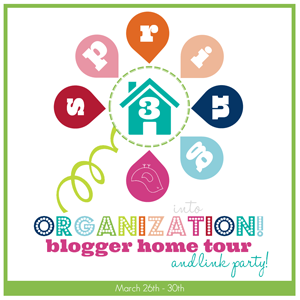 Go, have fun!
Meet some wonderful ladies with some fantastic ideas,
who, through organization, are making their homes.
Tomorrow, I will be sharing my Home Office
(for the first time),
and Becky, from Clean Mama will be sharing her Craft Room!
She also created a free Home Organizing Project printable for you!
Each of us bloggers are having a linky party on Friday,
and you can link up your organized spaces, too!
We will be pinning on Pinterest those spaces that inspire us!
Laura, who's home is on Day 4, has written a book called
"Clutter Rehab" (101 Tips and Tricks to Become an Organization Junkie and Love It!)
,
and she is giving away two copies of her book!
Enter to WIN below:
a Rafflecopter giveaway