It's Spring!
Today is the first day of the TOUR!
WooHoo!
Nine of us organizers are
featuring different spaces in our home this week.
So, if you are in dire need of organizing help/ideas, this tour is definitely the place to be!
It starts at Becky's Place,
so click the link below to be on your way.
Get on your comfy shoes...here we go!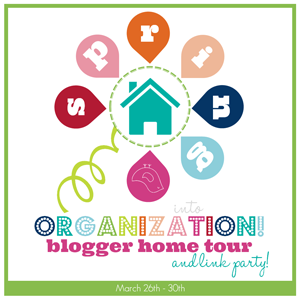 Two Homes are featured today!
I will direct you to Homes #3 and #4 tomorrow, the 27th.
My Home #5 and Home #6 are on Wednesday, the 28th.
Homes #7, #8, and #9 are on Thursday.
If you have a space that you've organized in your home,
you are welcome to share it by linking up on any of our blogs
on the last day of the tour, Friday, the 30th.