Hello again, girls!
HAPPY! HAPPY! MONDAY! MONDAY!
I hope y'all had a productive, relaxing, and inspiring weekend!
Today is a fun day for me and hopefully for you, too!
You can enter a giveaway and I get to give some things away!
Yipper!
I am participating in the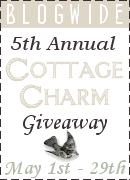 What is The Cottage Charm Giveaway?
It is a multi-blog, month-long (I am late, as usual) event from May 1st-May 29th (Sunday).
On the 30th, Monday, I will announce the winner using random.org.
An on-going list of all the participating bloggers can be found at
The Twice Remembered Cottage.
~
I kept thinking and thinking and trying to decide what to give you,
when a new etsy friend,
Pixie Pixels
offered
some very lovely artwork for me to give to one of you!
YOUR CHOICE OF ANY 8 X 10 PRINT!!!
Aren't they beautiful!?
This started another search for a few other objets d'art (pretty things) to include with hers.
And I couldn't find that one perfect thing.
So, Miss S, my college girl (co-owner) and I decided to let YOU pick
AND YOUR CHOICE OF ANYTHING IN:

(Miss S and I will be adding more things all week, so you'll have PLENTY to choose from!)
Here's how to enter:
Just leave me a comment below.
That's it!
(If you would like to be my follower/friend, I would be thrilled, but it is not mandatory).
If you don't have a blog, leave your email address in your comment so I can contact you when you win. I am so sorry, but I can only mail to the 48 contiguous United States.)
Winner will be announced next Monday, May 31st.
(You can pick your print from
PixiePixels
and the pretty from My Shoppe,
whimsyandglee
, then!)
Thank you so much for participating!
I loved meeting you all!

.